Everyone's favorite Canadian superstar, Drake, is producing and hosting the first ever NBA award ceremony on June 26th.
Toronto rap superstar dropped the ball on John Calipari's "Cal Cast" (listen to interview here) podcast yesterday. Drake said during the podcast " I don't even know if i'm allowed to say this, We'll find out… but i'm actually producing and hosting the first annual NBA awards this year."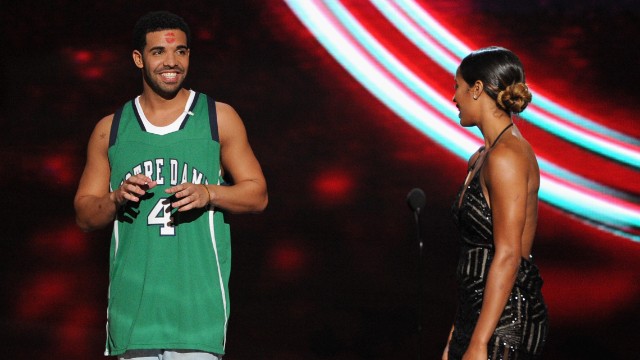 After the success the part Toronto Raptors owner had hosting the ESPYs in 2014 the NBA deemed him fit to put on a show for the first ever awards. With all the hype that surrounds Drake, and the vision and passion  he puts into all his work on and off the stage the first ever NBA awards should be quite the event to tune in for.
Drake revealed little about what was going to be in the show but had this to say:
"I get to take the reins on it, which again the ESPYs let me do great things and I thank them a lot for that. Usually award shows sometimes are a bit restrictive, but they let me do a lot at the ESPYs, so we'll expand on that concept. I love hosting, I love being in a room with iconic, legendary people that I look up to and having that pressure to make them laugh and enjoy their evening. Hopefully that will go well."
With all the buzz surrounding the NBA before the season stared, and now mid season, combined with Drakes addiction to be best friends with anyone with fame the award show should look something like a Comedy Central Roast and the Grammy's all mushed into one.
P.S. If Drake really thinks he's a mastermind of showmanship he HAS to sit KD and Westbrook at the same table. The amount of awkward camera zoom ins will be through the roof.