As we turn the page to 2017, it is time to look ahead to the new year.
That means there is going to be a new clean slate of films to look forward to and enjoy. Of course, I know that every year there are smaller films that emerge out of nowhere and films get moved, but right now there is a decent chunk to get excited about (I know I am already giddy with excitement). So as we start the new year, here are 25 films to anticipate/ keep on your radar in 2017:
Alien: Covenant (May 17th)
Cast: Katherine Waterston, Michael Fassbender, Danny McBride, Demian Bichir, Billy Crudup, James Franco 
This looks to be the Alien film that people have been waiting to see for years. What I'm talking about is the hard-R rated horror film filled with blood and terrifyingly scary moments that is reminiscent of Ridley Scott's first Alien film from 1979 and James Cameron's sequel Aliens. Like those films, this film, directed by Ridley Scott, finally looks like the franchise has returned to its horror roots. This is also a prequel much like Prometheus from 2012 and I know a lot of people were disappointed with that film, but I think this one will tie into the first film much better. The film does a have an excitingly talented cast and Michael Fassbender (who gave the best performance in Prometheus) returns. By the looks of it, I think this one has a lot of potential to be on par with the first two films of the franchise.
Beauty and The Beast (March 17th)
Cast: Emma Watson, Dan Stevens, Luke Evans, Josh Gad, Ewan McGregor, Ian McKellen, Emma Thompson, Kevin Kline, Gugu Mbatha-Raw, Stanley Tucci
The latest film in Disney's recent trend of live action remakes of their beloved animated classics, this one could potentially be the best one yet. The animated version of Beauty and The Beast from 1991 is perhaps the gold standard of Walt Disney Animation, and this film certainly has a lot to live up too, but it does look like to be in very good hands. The film does look gorgeous, all the actors are perfectly cast, and say what you want about the CGI, but I think it will look great on the big screen. Bill Codon does have a proven track record (especially with musicals as he directed Dreamgirls). Based off the footage I have seen, it seems as though Codon has captured the spirit of enchantment and love from the animated film.
Blade Runner 2049 (October 6th)
Cast: Harrison Ford, Ryan Gosling, Jared Leto, Robin Wright, Dave Bautista, Ana de Armas, Mackenzie Davis, Lennie James, Barkhad Abd
Denis Villeneuve has emerged as one of the most exciting directors of today mostly as his recent directorial efforts have earned critical praise, most notably Prisoners, Sicario, and most recently Arrival. That is why I have full faith in him making a sequel to Ridley Scott's influential and highly regarded sci-fi film from 1982. With the advancement of technology in today's age, I can only assume that this film will look as great as the first film. The trailer has offered a glimpse that those assumptions may be correct. Roger Deakins is the cinematographer after all, so I am not that shocked on how great this film visually looks right now. Plus, it will be exciting to see Harrison Ford back in one of his most career defining roles.
Cars 3 (June 16th)
Cast: Owen Wilson, Larry the Cable Guy, Bonnie Hunt, Cheech Marin, Michael Wallis
I had zero expectations for a third Cars film as the first two Cars films, especially the second which feels like it was made more for profit, are some of the weaker films in Pixar's lineup (and I even like the first film!). However, once this teaser dropped, my expectations rose significantly. This does certainly look darker and mature than the previous Cars films, and hopefully this has bit more emotional depth and genuine laughs that is more in line with Pixar's best efforts (and you almost never bet against Pixar).
Darkest Hour (November 24th)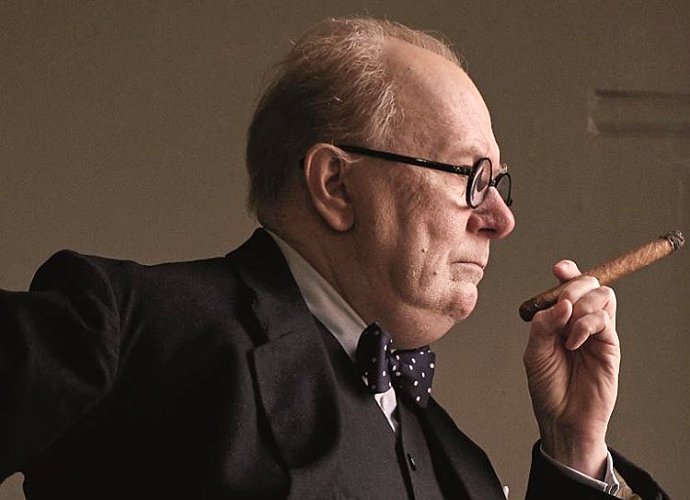 Cast: Gary Oldman, John Hurt, Ben Mendelsohn, Lily James, Kristen Scott Thomas, Stephen Dilane
Joe Wright had a bit of a misstep with the ill-conceived Pan, but I think he can get back on track with this film. He always seems to succeed with period-pieces (i.e. Pride and Prejudice and Atonement). The film also stars Gary Oldman as Winston Churchill and basically anything he touches turns to gold. I know all we have to go off of is this picture right now, but the talent behind the film is too strong to ignore.
Despicable Me 3 (June 15th)
Cast: Steve Carrell, Kristen Wiig, Trey Parker, Miranda Crosgrove 
Unlike most people, I was not that big on the first Despicable Me film as I did not find it all that memorable or funny. However, I consider the sequel, Despicable Me 2, to be one of the best animated films of this decade as I did find it funny with its small character interactions and in its action. It was, however, the introduction Kristen Wiig to the franchise as she did give a charmingly sweet performance that did provide some laughs and a genuinely good romantic subplot with Steve Carrell's famous Gru character. Having the two of them back is great, and what's even better is that the villain is voiced by South Park co-creator Trey Parker. This one looks like it could lead to a lot of laughs and it should be a worthy inclusion to the franchise.
Dunkirk (July 17th)
Cast: Tom Hardy, Kenneth Branagh, Cillian Murphy, Mark Rylance, Harry Styles, James D'Arcy
Christopher Nolan is one of the most popular and critically acclaimed directors of our time and any new film he releases should be at the top of anyones list. What I do admire about him is him being able to jump from genre to genre. He has directed superhero, sci-fi, period pieces, and psychological thrillers, and now comes something new: A war film. This particular war film tells the story of one of the most famous and defining battles during World War II. Nolan is an expert craftsman and I can already guess that this film will be filled with some wonderful and authentic action sequences. The film is also headlined by some great actors. This has a lot of elements going for it and that is why I have a lot of faith in it.
The Fate of the Furious (April 17th)
Cast: Vin Diesel, Dwayne Johnson, Charlize Theron, Michelle Rodriguez, Tyrese Gibson, Ludacris, Kurt Russell, Jason Statham, Scott Eastwood, Helen Mirren
The Fast and The Furious franchise has become the most popular action franchise after resurrecting itself from the fifth film onward. These films may be so illogically over-the-top , but that is precisely the point as the films are aware of this and that is what makes them so fun. These films only get more and more absurd with each passing entry and this one looks to be the most absurdly unrealistic one yet! In a year where we saw Batman and Superman fight each other, and Captain America and Iron Man fight each other , it only makes sense for Vin Diesel to fight his family (Is this a new trend now?). But it does look like a fresh take on the franchise and having Charlize Theron as a villain is more than enough to get anyone excited. For me, I just can't wait to see what slick action scenes they have created this time.
Ghost in the Shell (March 31st)
Cast: Scarlett Johansson, Juliette Binoche, Takeshi Kitano, Michael Pitt, Pilou Asbaek
I know it is far too early for me to be saying this, but this film already looks like the best looking film of 2017 (cinematography and visual-wise). It does call to mind films like Blade Runner, and almost every shot that was in the trailer looks like you could frame it on a wall. The technical aspects also look great as this also looks like this film has some great special effects. Casting controversy may cast a shadow over this film, but this film looks too good to turn down.
Guardians of the Galaxy Vol. 2 (May 5th)
Cast: Chris Pratt, Zoe Saldana, Dave Bautista, Vin Diesel, Bradley Cooper, Micheal Rooker, Kurt Russell, Karen Gillan, Pom Klementief, Glenn Close, Sylvester Stallone
The first Guardians of the Galaxy film proved to be an unprecedented hit. No one really expected much, but we got a highly entertaining film filled with uniquely colorful characters that mixed comedy, drama, and action perfectly. This looks like we will get all of that and then some. There does look to be some new creative action sequences and some new characters that I cannot wait to see interact with the characters we all know and love. It already looks as though we will get some great interactions between them that could lead to some great laughs. My only hope is that the villain in this film is a lot better in this film than the first as the Ronan, the villain from the first film, wasn't all that interesting. But seeing these characters again are more than enough for me to get excited about it.
John Wick: Chapter 2 (February 10th)
Cast: Keanu Reeves, John Leguizamo, Laurence Fishburne, Common, Ruby Rose, Ian McShane, Riccardo Scamarcio
John Wick became one of the biggest sleeper hits in recent memory and gave its star Keanu Reeves a new found fame. Hopefully this film will just be a violent, smart, and good looking as the first film. Plus, we also get to see a reunion with Matrix co-stars Reeves and Laurence Fishburne. That is more than enough to get me excited.
Justice League (November 17th)
Cast: Ben Affleck, Gal Gadot, Jason Mamoa, Ezra Miller, Ray Fisher, Cirian Hinds, Jeremy Irons, Amy Adams, Willem Dafoe, Jesse Eisenberg, Diane Lane, Amber Heard, Connie Nielson, J.K. Simmons, Henry Cavill
Zack Snyder has directed two out of the three films released so far in the DC Extended Universe (Man of Steel and Batman v Superman) and the results have been rather polarizing (like a lot of Snyder's directorial efforts). Some people love those two movies while some hate them while a lot of others think there are some strong and weak aspects of them. Now Snyder is back for the fifth film in the DCEU and we will all see if this team up film can be the critical success we have all been waiting for. There is a lot I think to be optimistic about because there is a lot to like about the DCEU such as casting, performances, action scenes, and drama. I think if they have the right script then they will succeed because all the elements are there. I am certain that this film will look great as Snyder's films are, for the most part, visually pleasing and, as proven by some of the past films, that we can expect some memorable performances. Plus, anyone who is a fan of these characters should feel somewhat giddy to see these characters on screen together and some, like Aquaman and The Flash, on the big screen for an extended period of time. It will be interesting to see where it goes after the ending of Batman v Superman, and I thinking it will lead to the hope and optimism that is usually associated with the majority of the characters. Give this franchise time because I think there is a lot of good in store.
Kong: Skull Island (March 10th)
Cast: Tom Hiddleston, Brie Larson, Samuel L. Jackson, John Goodman, John C. Rielly, Jing Tian, Toby Kebbell, Jason Mitchell, Shea Whigham, John Ortiz
Ever since Marvel earned critical and financial success with their Marvel Cinematic Universe (MCU), it was only a matter of time that other studios would try it too. DC finally came around and, despite what you think of their films, have managed to make truckloads of money. Now comes the Godzilla-King Kong cinematic universe, which started with Gareth Edwards' Godzilla  from 2014. This film is a reboot of the King Kong films which will take place in 1970s and will eventually lead up to the two creatures fighting in the near future. This film on its own does look visually impressive as the island itself does look exotically creepy and the effects on Kong himself do look great and make him terrifying. I can tell that this film was inspired by Apocalypse Now in terms of style, so I think this will be a visually rewarding film. The cast also gives me hope as the film is headlined by some of the best actors working today. It will also be interesting on how this fits in this new cinematic universe.
The Lego Batman Movie (February 10th)
Cast: Will Arnett, Micheal Cera, Zack Galifianakis, Rosario Dawson, Ralph Fiennes, Mariah Carey, Jenny Slate, Billy Dee Williams
One of best parts from The Lego Movie was Will Arnett's performance as Batman. So of course it would make sense from a studio head perspective to make a full length feature out of the character. While it may seem like a cash grab at first, this film, however, does look like a lot of fun as it playfully  satirizes the Batman mythos in a self-aware-like tone. There does look like that there is effort here in terms of style and humor. This could certainly be one of 2017's best animated films.
Logan (March 3rd)
Cast: Hugh Jackman, Patrick Stewart, Dafne Keen, Boyd Holbrook, Stephen Merchant, Richard E. Grant, Eriq La Selle, Elise Neal
This looks like the standalone Wolverine film I (and I am sure a lot of other people) have been waiting for. This is what it should be like; a a consistently gritty, small scale film that focuses more on the character than action (something the previous Wolverine film kind of did, but the first one did not do as much). The film is rated R, which means we can finally get some brutal on screen Wolverine films that we have always wanted. It does look like an emotionally stirring film that looks to have some heartfelt moments and the action scenes do look exciting. The X-Men films as a whole have been hit or miss, but this has the makings to be a hit and if this really is the last time Hugh Jackman will play the character, then it would be a good way to go out.
The Lost City of Z (April 14th)
Cast: Charlie Hunnam, Tom Holland, Robert Pattinson, Sienna Miller,  Angus Macfayden
I would put James Grey on the list of the best American filmmakers of our time. We Own The Night and The Immigrant are some of the most under-appreciated films in recent memory in their depictions of the American dream vs.the inevitability of fate. There are aspects of those elements of that in this film (which looks visually gorgeous) that is based off of the true story of Percy Fawcett who disappeared looking for a lost city in the Amazon. It is always exciting when Grey makes a new film and the cast he has assembled is a talented bunch. I would keep my eye on this one.
The Mummy (June 9th)
Cast: Tom Cruise, Annabelle Wallis, Sofia Boutella, Russell Crowe, Jake Johnson, Courtney B. Vance
This film marks the first film in the Universal monsters cinematic Universe (yes, another cinematic universe), and it already does look like a strong blockbuster in terms of excitement and thrills. Most of Tom Cruise's action movies have proven to be entertaining (some even great) in recent years due to their tight and stylistic action scenes (the plane crash scene  looks great) and the film looks to blend action and horror seamlessly. Sofia Boutella has been on the rise after Kingsman and Star Trek Beyond  and she looks good here too. The makeup certainly helps, but she is a great physical performer and she looks to bring some scares through her looks.
T2: Trainspotting (March 3rd)
Cast: Ewan McGregor, Johnny Lee Miller, Robert Carlyle, Ewen Bremmer
Danny Boyle's Trainspotting has become something of a cult classic ever since it debuted back in 1996. Now Boyle, Ewan McGregor, and the rest of the cast return for some of their career defining roles. The first film was uniquely trippy and the cast a had a great set of chemistry, and all that seems to return here. Anyone who is a fan of the first one should be excited about this one.
Thor: Ragnarok (November 3rd)
Cast: Chris Hemsworth, Tom Hiddleston, Cate Blanchett, Mark Ruffalo, Tessa Thompson, Jaimie Alexander, Karl Urban, Idris Elba, Anthony Hopkins, Jeff Goldblum, Sam Neill 
The Thor films, especially the second one, haven't reached the heights of the best Marvel Cinematic Universe films. The first one had its moments, but the second one is mostly forgettable. That being said, I have a great feeling that this one will be the best standalone Thor film yet for a few reasons. First, Cate Blanchett is playing the villain so that is more than enough right here. Mark Ruffalo will also appear and the film will adapt some elements from the fan favorite "Planet Hulk" storyline from the comics. The film is directed by Taika Waititi, which a unique choice as Marvel now seems to be turning to auteur-like filmmakers for their latest projects. Plus, the Thor films, while lacking in story, are probably the most visually pleasing films in the MCU with its set pieces and costumes.
Spider-Man: Homecoming (July 7th)
Cast: Tom Holland, Robert Downey Jr., Michael Keaton, Zendaya, Marisa Tomei, Donald Glover, Jacob Batalon, Laura Harrier, Tony Revolori, Boheme Woodbine, Logan Marshall-Green
Tom Holland's performance as Peter Parker/Spider-Man was one of the highlights of Captain America: Civil War. He really managed to capture the awkwardness and quirks of Peter Parker convincingly while also providing some great laughs as well. This made me even more excited for his standalone film, which will be set in the Marvel Cinematic Universe, because Holland already showed that he could potentially be the best onscreen Spider-Man despite appearing on screen for less than 20 minutes. The action scenes do look great, but director Jon Watts stated that the films will be inspired by the films of John Hughes. This could be the best interpretation of Spider-Man yet as it is those quiet moments of adolescence that has made the character so enduring for all these years (and the villains, of course). Michael Keaton playing The Vulture (ha!) is pitch perfect casting and watching Holland interact with Robert Downey Jr.'s Tont Stark/Iron Man looks pretty humorous.
Split (January 20th)
Cast: James McAvoy, Anya Taylor-Joy, Haley Lu Richardson, Jessica Sula, Betty Buckley
Director M. Night Shyamalan has been the butt of many jokes thanks in large part to his poorly received films in the late 2000s and the early 2010s. He did manage to receive some the best reviews in recent years with the last year's thriller The Visit and with Split he now looks like to be on track. The film does look genuinely creepy thanks in large part to James McAvoy's performance based off the footage. He is one of the best actors of our generation and he does look like he gives a devotedly committed performance. Plus, the film also headlines two of 2016's breakout stars: Anya Taylor-Joy from The Witch and Haley Lu Richardson from The Edge of Seventeen. It will be exciting to see them again and give their careers an even bigger boost, and hopefully this will give Shyamalan some more credibility back.
Star Wars: Episode VIII (December 15th)
Cast: Daisy Ridley, John Boyega, Adam Driver, Oscar Issac, Benicio Del Toro, Mark Hamill, Carrie Fisher, Laura Dern, Luptia Nyong'o, Andy Serkis, Domhall Gleeson, Anthony Daniels
The Force Awakens got everyone excited about Star Wars once again (and I think Rouge One added to that) thanks in large part to its returning characters and (perhaps more importantly), introducing exciting new characters. We can only speculate of what this film will be like as there have been no stills or footage, but the director is Rian Johnson and he has proven himself in both film (Looper) and television (Breaking Bad). The majority of the cast is returning and they proved to have worthy chemistry with one another, which could lead to some scenes that could be funny and heartfelt.
Untitled Paul Thomas Anderson Fashion Project
Cast: Daniel Day-Lewis
Director Paul Thomas Anderson is one of the most critically acclaimed directors of his generation, and every film he makes always has the potential to be great (he has yet to make a bad movie). His team up with Daniel Day Lewis (perhaps the most critically acclaimed actor of his generation) in 2007's There Will Be Blood is considered to be one of, if not, the greatest film of the 2000s. So having them working together once more should have any film fan be giddy with excitement. We probably won't see it until late 2017 (like exactly one year from now), but with the great talent behind it I wouldn't exactly fret for the wait as this could be something great.
War for the Planet of the Apes (July 14th)
Cast: Andy Serkis, Woody Harrelson, Judy Greer, Steve Zahn
There is an argument to be made that the Planet of the Apes prequel series is one of the best in film history. Each film keeps getting much more exciting and darker. The stakes have certainly now become much bigger and there is chance this could become the best Planet of the Apes film that we have ever seen. Andy Serkis is back and he looks just as strong as ever. This is one summer blockbuster that could be something special.
Wonder Woman (June 2nd)
Cast: Gal Gadot, Chris Pine, Robin Wright, Connie Nielsen, Danny Huston, David Thewlis, Ewan Bremner, Lucy David, Saïd Taghmaoui, Elena Anaya
This film marks the fourth entry in the DC Extended Universe (DCEU) and while the first three films have be met with mostly polarizing receptions, there is a chance that this film, directed by Patty Jenkins, could be the one that everyone could be on board for One of the more universally praised elements of the polarizing Batman v Superman was Gal Gadot as Diana Prince/Wonder Woman. Even though her role was something of a glorified cameo, Gadot did make the most of it and the use of her character was exciting (Junkie XL's score to accompany her also helped tremendously). Gadot did make Wonder Woman fierce and fun, but also commanding. You really felt her power and her grace even when she wasn't fighting. That is why I am excited for this film because Gadot has proved herself worthy and this film gives her a chance to really show off the character front and center. The time period is also unique as this film takes place during World War I (and cinematography looks great). The setting could help the film manage to stand on its own in this cinematic universe and give us a good glimpse of the Wonder Woman character on her own. We were long overdue for a Wonder Woman film (and for a female-led superhero film in general) and this looks to have the right amount of action, drama, romance, and even some light comedy to put the DCEU on the right path.