The Super Bowl returns again, and, if you are like most people, you are really only in it for the food and commercials.
However, if for some reason you get swept into a heated conversation about spreads, picks, and predictions, its important that you're prepared. Luckily for you, we are here to help you through it all. Here are some useful tips to follow if you can't hang with what's going on, but need to.
1. Try to come up with one decent comment about the big players.
Check out what's happening with each teams' players for this year. While looking them over, try to stick with the basics.
Carolina Panthers (15-1)
The Panthers have the #1 scoring offense in the NFL to date, and, this will be their second appearance in the Super Bowl. However, you should know that there are a few injuries that may weaken the defense, but for now, that's all you really need to know about that.
Denver Broncos (12-4)
The Broncos are making their Eighth Super Bowl appearance.
Peyton Manning is playing in his fourth Super Bowl, and is looking for his second championship ring. Additionally, Manning and the Broncos have even more to prove after their tumultuous loss to the Seahawks ( 43-8) in 2014.
Rumor has it, Peyton Manning has expressed to friends and family that he might retire this year. However, if he does choose to do so, the 39 year old quarterback would be leaving after reaching the accomplishment of breaking several records throughout his career. Currently, he holds the record for most NFL career passing touchdowns (539), and is the leader in single season passing touchdowns (55), just to name a few.
Cam Newton is the quarterback for the Carolina Panthers. He has lead his team to a 15-1 record in the regular season.
University of Michigan Alum, Devin Funchess, has had an amazing rookie season with the panthers. He has been in several key receptions throughout the 2015 season. And, he even landed the second highest career best (in yardage) for a rookie with 7 receptions and 120 yards in the regular season finale against the Tampa Bay Buccaneers.
2. Know the basic run of a game
This kind of speaks for itself and is totally optional, but knowing when a team is scoring, basic fouls are being committed, or even when a ref is being shitty, will give you a leg up in knowing when to yell.
3. Dress the part
You don't have to wear a jersey to support a team. In fact, you probably shouldn't do that if you don't really know what's happening. What you can do is wear a hoodie and jeans with a button up, or a t-shirt and leggings. Basically, if you are cool with getting beer, cheese, grease, or any other unidentified substances on the outfit, wear it.
4. Stick to a few key phrases
A great drinking game (and comment) is to drink every time Manning calls out Omaha. The drunker everyone is, the better this game may be.
5. Keep quiet
There is no need to draw extra attention to yourself during the game. Everyone who cares will be paying attention to the game. Plus, you can't really say anything too controversial to people who aren't really into football. Stick with those people, they are your viewing squad.
6. Yell random rhetorical questions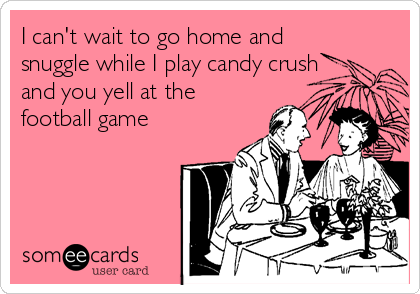 If you really want to watch the game for whatever reason, there is nothing wrong with getting in on the yelling. Try to stick with general phrases like "Com on ref!" and "Fumble!". The more specific your yell, the more likely someone may think you are picking sides and call you out on it.
7. Know that you don't have to know anything about football
The Super Bowl is mostly an excuse to eat really poorly and get drunk on a Sunday night. A lot of people are doing a lot of different things, so read the room and join in where you feel comfortable. When in doubt, stick back by the snack/game tables
8. Follow the rules for watching
Do not scroll on your phone if you have a prime viewing spot. Do this during the bad commercials (you will know your cue). If you get up, you lose your spot. No Questions Asked.
9. Know the power of your phone
If you really feel the need to impress someone, like a parent or significant other. Just check in to see what people are saying online. Twitter is definitely your friend in this situation. Do not sleep on the power of the universe and all of its knowledge sitting in your pocket.
At the end of it all, you know what you are about. Don't go out of your way stressing about one of the biggest corporate sponsored holidays of the year. Get drunk (or not), have fun, and relax.