October is now in full swing and that means Halloween is rapidly approaching. One of the best ways to get into the spirit of the long awaited day of scary festivities is to watch horror movies.
Some popular choices amongst the general public include classics such as The Exorcist, Halloween, A Nightmare on Elm Street, Scream, Nosferatu and Alien. But what about horror movies from this century? There have some well-made, scary, and influential horror films from the new millennium that could be seen as classics years from now. I'm not trying to say that these films are better than those classics I just mentioned, but I'm just trying to give them some recognition. Here are the top 10 horror films of the 21st century:
10. Drag Me to Hell (2009)
After tackling the superhero genre with the original Spider-Man films from 2002-2007, director Sam Raimi returned to his roots by making a film in the similar style of his Evil Dead films by blending both horror and dark comedy. The film stars Alison Lohman as a young woman named Christine who is put under a curse by an old woman. The film then follows the attempts by Christine to rid the curse before she is dragged into hell in three days. One of the great things about the film is that it is very effective and memorable in its scares (mostly because of the nightmarishly terrifying performance of Lorna Raver as the old woman). There are some scenes, however, that are a bit over top, but the film knows this and has fun with. There are a few dark comedic moments that are funny, but Raimi finds the right balance between horror and dark comedy. Neither one of these elements upstages or overshadows the other. He presents them at just the right time to make them work, and they do indeed work. The horror scenes are unpleasantly scary, but the film doesn't take itself too seriously. It embraces the silliness in some of its scenes, and finds time to have some fun.
9. The Conjuring (2013)
James Wan made a name for himself with Saw and Insidious. I could have put either of those films on this list because Saw is becoming something of a horror classic already and Insidious has some pretty effective scares. I chose The Conjuring because it, well, scared me the most. The film tells the supposedly true story of the Perron family being haunted by demonic entities inside their house. They call upon the famous paranormal investigators known as Ed (Patrick Wilson) and Lorain Warren (Vera Farmiga) for help. Being a haunted house movie, this film uses a lot of visual imagery to produce a very good sense of uneasiness and emotional dread. There is an abundance of scares through some of this imagery and it makes the film feel fresh because it doesn't always have to rely on typical horror cliches. The scariest moments in the film are executed at just the right time, are unexpected, and are very scary.
8. The Babadook (2014)
One of the big sleeper hits of 2014, The Babadook is a film from Australia that tells the story of a woman and her son being haunted by a demon known as The Babadook. The woman, named Amelia (Essie Davis), is still grieving about her dead husband, and tries control her son who seems to have behavioral problems. Essie Davis is absolutely great in the film. You can feel her sadness, and her fear of what is happening. It is a very atmospheric film that relies on scary images, and it does work to create something very nightmarish. That being said, the film is much more than just a "demon in the house" story. It is possible that The Babadook can be seen as a metaphor for depression because the demon is always there tormenting Amelia like a black cloud of sadness; no matter how hard she tries to get rid of it. The ending sums this idea up quite well. I won't give it away, but let's just say it very smart and makes the film all the more disturbing.
7. 28 Days Later (2002)
This Danny Boyle film is about a virus outbreak in England that turns people into flesh eating, zombie like creatures. The film itself focuses on the efforts of four people as they try to survive. Though it is not as scary as some of the other films on this list, it is certainly one of the most influential horror films in recent memory because of the way it presents the zombies themselves. In the past, zombies would act and walk slow (think of George A. Romeo's Night of the Living Dead and Dawn of the Dead), but the zombie characters in this film, however, can actually run. This now seems to be the staple for all zombie pictures as of late, and you can thank this film for doing that. This idea does create some very tense scenes as the characters try to out run these savage beasts. There is also a pretty scary and rather disturbing interlude with some British soldiers who don't appear what they seem at first. I'm not going to say much more, but it does bring up a complex idea of who really the group should be afraid of more; these human soldiers or the rampaging zombies?
6. It Follows (2015)
This is a very original film that stays away from the traditional cliches of modern horror movies, and instead relies on simplistic ideas to create scares, but they are very genuine and suspenseful. The film stars Maika Monroe as a college student named Jay who receives a curse from her boyfriend after having sex with him. The curse is that she will be followed by a person that only she can see and will slowly walk to her. If he/she catches Jay then they murder her. A very strange idea indeed, but it does offer some good scares that harken back to films such as Halloween. When a person is slowly walking towards Jay, it is reminiscent of how Michael Myers would slowly approach his victims. Even though the person walks at a slow pace, it does create great suspense because the closer they get, the more anxious the audience gets about Jay trying to get away. Monroe gives a convincingly sensitive and sympathetic performance as her paranoia grows worse because she basically has to look over her shoulder half the time. It leaves a very unnerving feeling when it is over.
5. Let the Right One In (2008)
If you want to see a good love story between a vampire and a human, don't watch Twilight, but watch this film instead. This film is from Sweden and was ironically released the same year as the first Twilight film. It tells the story of a friendship between two lonely kids; 12 year old Oskar and a vampire named Eli who is actually 200 years old, but is stuck in the physically form of a 12 year old. It is a very moody and quiet film that relies mostly on its atmosphere, but it works. The shots of the cold, snowy, quiet nights gives the film a very creepy and chilling atmosphere. That being said, the film is really more of a coming of age romance story between two friends that is mixed with horror elements. The scenes that do feature horror, however, are pretty unsettling. Unlike Twilight, the characters in this film are actually compelling. Oskar is sympathetic as he is frequently bullied wanting vengeance, and Eli finds the passage for him to do that. I won't say what, but it does show how far their deep and rather disturbing friendship goes. It is not entirely a horror movie because it's more tender than scary, but still shouldn't be missed because of the effect that it leaves.
4. Under the Skin (2014)
 This horror film brilliantly blends both drama and science-fiction, and the result is something that feels fresh and new. From its opening shot, the film makes itself well aware that this something both scary and alluring about it. Scarlett Johansson stars as a female alien who comes to Earth, who seduces and prey on young men. Though not a typical horror film per-se, it still an unnerving film with Johansson giving a hypnotically haunting performance. She can appear friendly to the guys she meets as she flirts with them, but she is very quietly merciless in what her intentions are. There is particular scene in the film that takes place on a beach that really shows this quality of her, and it is very disturbing. It is a film that really stuck with me for a few days after I saw it just because of Johansson's performance and the bleakness in some of its scenes.
3. [REC] (2007)
This is probably the best "found footage" film that I have ever seen. It is a film from Spain that tells the story of a news crew that shadows the local fire department for the night. The fire department is called to an apartment complex with the reporter and camerman in tow. They get trapped inside because the military has sealed off all exits. As they try to figure out why, there is an outbreak of a virus inside the apartment complex that turns the residents into flesh eating, aggressive zombies like creatures. Obviously the use of the "found footage" technique gives the film some realism and being trapped inside a small apartment complex gives the film a claustrophobic atmosphere. There is only so many places you can go and hide with more of these zombie like creatures lurking around every corner. Manuela Velasco, who plays the news reporter, gives a very memorable performance as she gets across the hysteria of the situation off very well. The final scenes are the scariest parts of the film with disturbing imagery, great suspense, and adds more layers of claustrophobia. If this film sounds familiar then you may know it as Quarantine (the shot for shot remake for American audiences). I suggest this film because it was the first and it is scarier.
2. Black Swan (2010)
Darren Aronofsky's film about a ballet dancer's (Natalie Portman) descent from a quiet, "sweet girl" into madness is both very frightening and brilliant. The dancer is named Nina and she has been cast as the lead in "Swan Lake" and the film shows her try to prove that she can pull off the black swan side of the character. She wants to be "perfect" and is paranoid about the thought of being replaced by another dancer (Mila Kunis). Personally, it is a film that gets better and scarier with each repeated viewing. The film shows the idea of trying to be perfect is a very unhealthy obsession that can literary drive a person insane. The film slowly, but surly becomes more unsettling and affectively creepy with each passing scene that it really manages to get under your skin. The film is lead by a trio of great performances from Natalie Portman (who won the Oscar for Best Actress for this film), Vincent Cassel, and Mila Kunis.
1. The Descent (2005)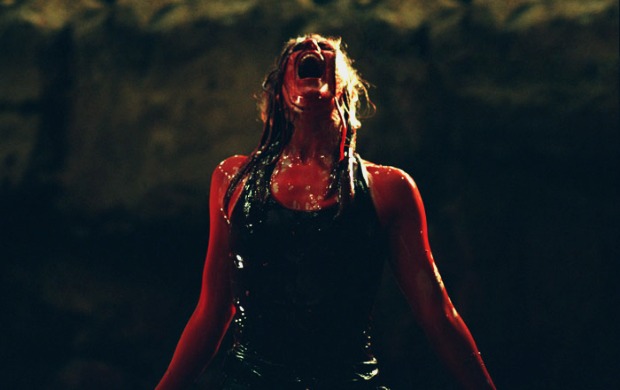 The Descent is the scariest film of the 21st Century so far and it is not for the claustrophobic. It tells the story of six women who go explore a cave in the Appalachian Mountains and ultimately get trapped inside. This predicament is already scary enough and helps give the film a very suffocating and claustrophobic atmosphere (especially when they have to squeeze through tight tunnels of rocks). They are surrounded by the cave and darkness and all they have is there flashlights. Things get even worse as the group is being stalked and attacked by humanoid vampire like creatures that tear their guts out, rip them limb from limb, and eat them. So they are stuck in a dark cave with possibly no escape while trying to outrun these creatures. It's a terrifyingly brutal film that throws you into a world of hell and never lets up. Director Neil Marshall doesn't hold back, and, by showing these characters suffer through both nature and these creatures, isn't afraid of presenting something extremely uncomfortable and depressing.
Honorable Mention: The Cabin in the Woods (2012), Dawn of the Dead (2004), Insidious (2011), The Mist (2007), The Others (2001), Saw (2004), Sinister (2012).
Now get out there and get scared in preparation for fall's favorite holiday!